HAMPTONS LOCATIONS
Hamptons Locations has been in business since 1990 And we have locations on the North and South Forks, as well as the Metropolitan area, Pennsylvania, Florida and Elsewhere.
HAMPTONS LOCATIONS was founded by Nancy Grigor, who was a top model with the Ford agency for over 20 years. She worked on photo and film shoots worldwide with well known photographers, fashion designers and advertising agencies. Nancy participated in major runway shows for designers such as Versace, Valentino, Bill Blass, Karl Lagerfeld, Bob Mackie, Hanae Mori, and Halston. (She was a "Halstonette").
Nancy studied acting with Sandy Meisner and had numerous leading roles in films, television pilots and commercials. She is a member of SAG and AFTRA.
Having resided in the Hamptons for over 25 years, in addition to her experiences in the film and photo world, has helped her to become a LOCATIONS SPECIALIST IN THE HAMPTONS AND AN ASSET TO YOUR PRODUCTION AND SCOUTING NEEDS.
Whatever your request, Nancy either has it in her portfolios or knows where to find it.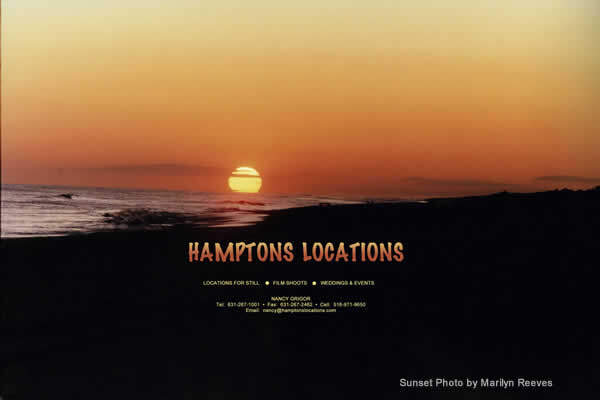 PENNSYLVANIA  LOCATIONS
Our HAMPTONS LOCATIONS representative in residence in PENNSYLVANIA is MAGGIE ASIMAKOPOULOS.
Being born and raised in the state gives her a familiarity and a special insight into venues in the area.  Maggie has a strong business and organizational background.  Her experience in advertising, market research, project management and retailing enhances her location management and scouting skills. In advertising, she performed market research studies to develop advertising campaign strategies.
In project management she performed design plan reviews, coordinated major construction projects in terminals and stations in New York City and New Jersey as well as the filming and photo shoots at the terminals and stations. In retailing, she was a manager for major upper scale retail chain.
This experienced career professional with her customer service abilities can certainly meet all of your location needs.